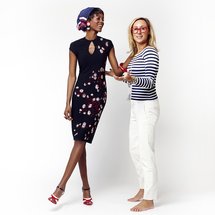 ,Bold, smart, adventurous and right to the point.

Nikki Poulos grew up in the Australian Outback on a 54,000 acre cattle ranch. With no electricity and no television, Nikki created her world from the sights and sounds of the Outback. The beauty of nature became her canvas.

In the 1990s, Nikki created an eco-friendly baby clothing line 'ecobaby' which rose to meteoric success Australia wide. After selling the company, Nikki was determined to expand her education, and she returned to university to study Tropical Marine Biology. She received her Bachelor of Science degree and enjoyed her work in marine research and coral reef conservation, but the lure of being the master of her own destiny and creativity, drew her back to the fashion world.

Today, her eponymous clothing line 'nikki poulos' reflects her love of vintage-inspired styles, graphic prints and bold colors. Nikki has become well-known for her custom-designed prints, that have made her brand an easily recognizable household name. Nikki designs 'easy glamour pieces for herself and women like her, to wear everyday and feel like a million bucks from morning to night with ease'. Nikki's style is the epitome of modern boho-chic.

Nikki's designs have been featured in Sports Illustrated Swimsuit Issue, Elle, Lucky and Fitness magazines, with honorable mentions in WWD, Forbes and Rolling Stone. Nikki was a featured guest designer on the Benelux European version of the TV show Next Top Model. Her big opportunity came as a design contestant on NBC's prime time TV show "Fashion Star" which aired in 70 countries worldwide, placing her firmly in front of a global audience. Nikki didn't win the competition, but as a runner up she feels she was the winner, as her designs were an instant hit, selling out within minutes. This was the moment she was waiting for as it launched her 'nikki by nikki poulos' brand on teleshopping networks worldwide. Her star continues to rise as she expands her brand across the US, into the UK, France, Germany, Australia and New Zealand.

Nikki started surfing a few years ago and has been pursuing this passion in addition to designing ever since. She continues to seek inspiration on her global surfing adventures; traveling to exotic places, meeting amazing people, tasting new foods, scouring vintage markets for one of a kind treasures, and feeling the warmth of the sun and the salty goodness of the ocean on her skin. She hopes when you wear one of her beautiful pieces, you will feel the same passion and excitement that she feels when following her dreams...