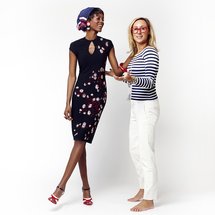 Bold, smart, adventurous and right to the point.

Nikki Poulos grew up in the Australian Outback on a 54,000 acre cattle ranch. With no electricity and no television, Nikki created her world from the sights and sounds of the Outback. The beauty of nature became her canvas.

In the early 1990s, Nikki created an eco-friendly baby clothing line 'ecobaby' which successfully sold in major department stores. Later, determined to expand her education, she sold her company and returned to school to study marine biology. She received a Bachelor of Science degree and worked in marine research and coral reef conservation. But she couldn't stay away from fashion for long...

Today, her eponymous clothing line 'nikki poulos' reflects her love of vintage-inspired styles, graphic prints and bold colors. Nikki has become well-known for her custom-designed prints, that have made her brand an easily recognizable household name. Nikki designs 'easy glamour pieces for herself and women like her, to wear everyday and feel like a million bucks from morning to night with ease'. Nikki's style is the epitome of modern boho-chic.

Nikki's designs have been featured in Sports Illustrated Swimsuit Issue, Elle, Lucky and Fitness magazines, and the European version of the TV show Next Top Model. Nikki was a designer on the NBC prime time TV show "Fashion Star". In 2013 she launched her 'nikki by nikki poulos' brand in collaboration with HSN.